The Tim Gill Center Collaboration is a dynamic hub that connects people, expertise, and resources to create and share new, illuminating stories of the the human experience. The following list of our collaborators work together to drive our mission, as illustrated in our "Parts and Labor" diagram (downloadable PDF).
---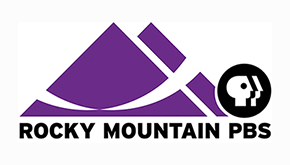 Tim Gill Center for Public Media Collaborators – Red Book
Each week, nearly 900,000 people throughout Colorado turn to Rocky Mountain PBS to discover provocative and inspiring local, national and international programming; find diverse viewpoints; score front row center seats to world-class performances; and experience lifelong learning opportunities.
The network began in Denver in 1956 as Colorado's first public television station. It is now Colorado's only statewide television network, with stations in Denver (KRMA), Pueblo/Colorado Springs (KTSC), Steamboat Springs (KRMZ), Grand Junction (KRMJ) and Durango (KRMU).
Image – PPLDLogo.jpgPikes Peak Library District (PPLD) is a nationally recognized system of public libraries serving a population of more than 535,000 in El Paso County, Colorado. With fourteen facilities, online resources, and mobile library service, PPLD responds to the unique needs of individual neighborhoods and the community at large. It strives to reach all members of the community, providing free and equitable access to information and an avenue for personal and community enrichment.

Image – PPCC logo category 5..jpgPikes Peak Community College (PPCC) is a two-year college in Colorado Springs offering associate's degrees and various certifications in career and technical fields. With more than 200 programs of study, PPCC has a proud tradition of helping people get a fresh start – a start toward completion of a degree, a start towards a better job, a start towards a better and more enriching life. Statistics has proven that PPCC students who transfer to local four-year colleges do better than students who start at the four-year college. Small classes taught by professors offer an unparalleled experience for undergraduate students. PPCC is accredited by the Higher Learning Commission and a member of the North Central Association.

Image – KRCC.jpgKRCC Radio Colorado College is the public radio station broadcasting National Public Radio and eclectic music in Southern Colorado an Northern New Mexico and includes KRCC 91.5 FM Colorado Springs / Pueblo, KECC 89.1 FM La Junta, and KCCS 91.7 FM Starkville. We seek to improve the quality of life in Southern Colorado and Northern New Mexico with our commitment to the core values of Colorado College and by advancing public media through fresh news, information, music, culture and nonprofit support. We shall honor our established reputation and the goodwill of our invested members. Underwriting, memberships, grants and Colorado College sustain us.


UCCSLogo-Standard-Color UCCS, a premier comprehensive undergraduate and specialized graduate research university, provides students with academically rigorous and life-enriching experiences in a vibrant university community. We advance knowledge, broaden access, and integrate student learning with the spirit of discovery for the benefit of southern Colorado, the state, nation and world. The Colorado Springs campus offers liberal arts and sciences, business, engineering, health sciences, and teacher preparation undergraduate degree programs, and a selected number of masters and doctoral degree programs.

Image – rmcrheader2.jpgThe Capitol Coverage Project is an effort of Rocky Mountain Community Radio, a group of 16 non-commercial public and community radio stations mainly in Colorado, with stations in Utah and New Mexico. For the past nine years the project has provided daily news reports from sessions of the Colorado State Legislature. The Capitol Coverage Project seeks to inform and engage radio listeners in this decision-making process.